Does there ever become a time in our lives when we can finally say, "I have all the room I need."?
I don't believe that will ever be a phrase that comes out of my mouth.
Our house has no entry hall, no coat closet and no mudroom.
When you walk through the carport door, you enter right into the family room.  When you enter the front door of the house, you walk smack dab into the dining room.  There is no room for a coat hanger much else anything else.
We do have a back door but it connects to our bedroom.  The plan was we wanted to build a patio outside that door for family time and bbq's, but here we are 12 years later and no patio.  I guess that's just part of the game of life.
The back door has not been used more than a dozen times over the past 12 years until recently.
Earlier this year we decided to add rabbits, chickens and turkeys to our little homestead.  The best place to make the pens for the animals was in the back of the house which is closet to my backdoor.  Which means that now the backdoor is used a dozen times a day.
I really don't have a problem with us using the back door to take care of the animals except that in a matter of days my clean little entry area to my bedroom become over crowded with chicken poop covered muck boots, jackets, and everything in between.
I decided something had to be done after I tripped over a pair of boots for the hundreth time.  It was either get that entry way organized or break my leg.
After I went over my options I thought, "Why not make a mudroom?".  It was the perfect solution to get my entryway organized.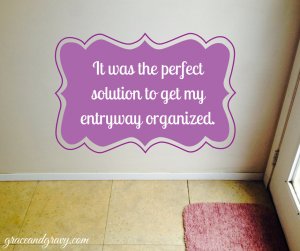 Of course my husband had other opinions.  He thought the area was too small, it would become more junked up and we would live with clutter in the doorway of our bedroom, but just like always, I knew better (:
So I set my plan in motion and made it happen!
I decided to buy a cube seat so not only would we have storage but we would have a place to sit down to but on our boots.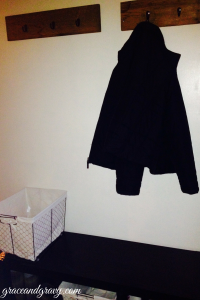 I added a couple chicken wire baskets to hold loose items such as flashlights, gloves and egg baskets.  Next I found 2 old pieces of barn wood, added metal hooks to them and hung them on the wall.  The last touch was adding a rug to wipe our boots on as we come in the door.
I think my makeshift mudroom came together very nicely.
Utilizing every square inch in your home is the perfect solution for finding extra space.