According to my calender, summer is upon us!
I decided we should celebrate with a summery recipe featuring fresh, light flavors, so I chose my Classic Chicken Salad!
Perfect salad choice for a picnic with your special person, brown-bag lunch for a work or school day, formal luncheon, ladies tea or light dinner.
Or how about your next family function?  Make a bowl, grab a bag of crossiants and you will have the highlight of the meal!
Yummy, Delish and so simple to throw together when your in a pinch.
If you prefer not to use can chicken, cook 4 chicken breats ahead of time.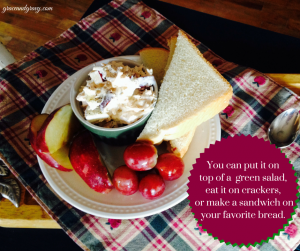 Classic Chicken Salad
Makes 4 to 6 servings.
2 cans of 12-13 oz pre-cooked chicken
1/2 cup sliced almonds (or nut of your choice)  
1/2 cup grapes sliced 
1/2 cup apples diced
1 cup mayonnaise
1 tsp lemon juice
1/2 teaspoon salt
1/2 teaspoon black pepper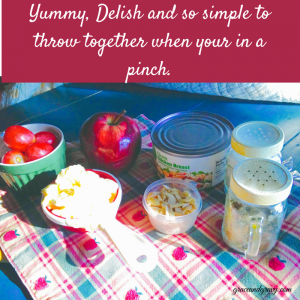 What you do:
1) In a medium size bowl, add your mayo, salt, pepper, and lemon juice and stir together.
2) Open and drain your chicken and pour in the bowl of mayo mix.
3) Next shred chicken up with a fork and mix together.
4) Add your almonds, apples and grapes and lightly toss into chicken mixture.
5) Serve right away or store in the refrigerator until ready to enjoy!
You can put it on top of a green salad, eat it on crackers, or make a sandwich on your favorite bread.